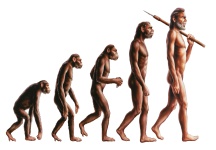 The inconvenient truth
Non-living matter cannot spontaneously transform into living matter.
Evolution cannot explain how life started.
Evolution cannot explain the source of all the energy required to form the universe.
Evolution cannot demonstrate how un-intelligent atoms figured out the human brain.
Evolution cannot demonstrate the sequence of mutations necessary to transform the DNA of simple living creatures (worm), into the DNA of complex living creatures (horse).
---
Q1: If evolution is not the answer, then Who is?
---
People saw Jesus doing things only God could do.
Some eyewitnesses recorded their testimony in writing - Holy Bible.
Archaeological artifacts confirm the Bible as real world history
Biblical prophecy proves that God is Sovereign.
---
Solution:"In the beginning, God created the heavens and the earth."
---