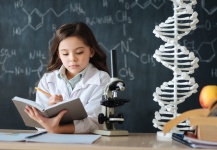 Why is evolution taught in science classes?
Students are taught evolution in primary school, high school and university.
Most students never question evolution - they just accept it as "fact."
Of those students who eventually become science teachers, most will also teach evolution to the next generation as "fact."
Thus, evolution has become self-perpetuating.
Teaching something that is un-testable and un-observable, is not science.
---
Q1: Why do many scientists believe evolution?
---
People who believe evolution to be true, are simply regurgitating what they've been taught.


Science is defined as: "A particular body of knowledge, obtained by systematic observation & testing."


Science requires observational evidence.
Science involves making a hypothesis, and conducting experiments to test the hypothesis.
Where are the experiments demonstrating evolution? There are NONE.
As evolution cannot be observed or tested, it is NOT science.


Most medical doctors were taught that stomach ulcers were caused by stress & poor diet.
Many doctors prescribed a "holiday" to patients who had stomach ulcers.
The "holiday" didn't cure the patient of his/her stomach ulcers.
Researchers in Western Australia (1982) discovered that stomach ulcers were actually caused by bacteria - not stress.
They won a Nobel prize for their discovery of the helicobacter pylori bacteria.
Thus, all the medical doctors were completely WRONG about stress causing stomach ulcers.
They had all been taught something completely FALSE.


There are many science people who reject evolution.


Can you name ANY ONE THING about evolution, that you KNOW FOR CERTAIN to be true?
---
Solution: Evolution is not science!
---