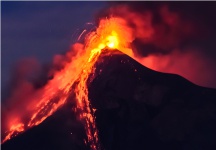 Can the age of rocks be measured accurately?
Radiometric rock dating techniques, attempt to measure the age of rocks.
There are several different methods of analysis: Uranium-Lead (U/Pb), Potassium-Argon (K/Ar) etc.
They measure the amount of uranium (U) and lead (Pb) in a small sample of the rock.
The 'half-life' rate of decay of uranium into lead, is well known.
An assumption is then made, about how much uranium (& lead) was in the rock, when it originally formed.
The difference (original - now) is used to calculate the age of the rock, using the 'half-life' rate of decay.
Do you see the flaw?
The original assumption gives the final answer.
They have no idea how much uranium (or lead) was in the rock when it formed, so they've no idea how old the rock is.
---
Q1: Why do rock dating techniques give widely different answers?
---
They analyse a rock sample, and if it gives the 'wrong' age, they just discard that result.
They repeat the analysis with another sample from the same rock.
They keep doing this, until they get an answer they're happy with!
Rocks from volcanic events within the last 200 years, can return "dates" anywhere from 1 million to 100 million years or more!
A standard question they generally ask, when you take a rock to be measured is: "What age are you expecting?"
I.e. They'll test the rock until they obtain an answer that fits your "assumption," because they are just guessing.
They use rocks to date fossils, and fossils to date rocks - circular logic.
---
Solution: Nobody knows how old rocks are.
---